Something I'm pondering this weekend: What's next with this surge in 30-year mortgage rates?
30-YEAR MORTGAGE RATE & 10-YEAR TREASURY YIELD
8/25/2023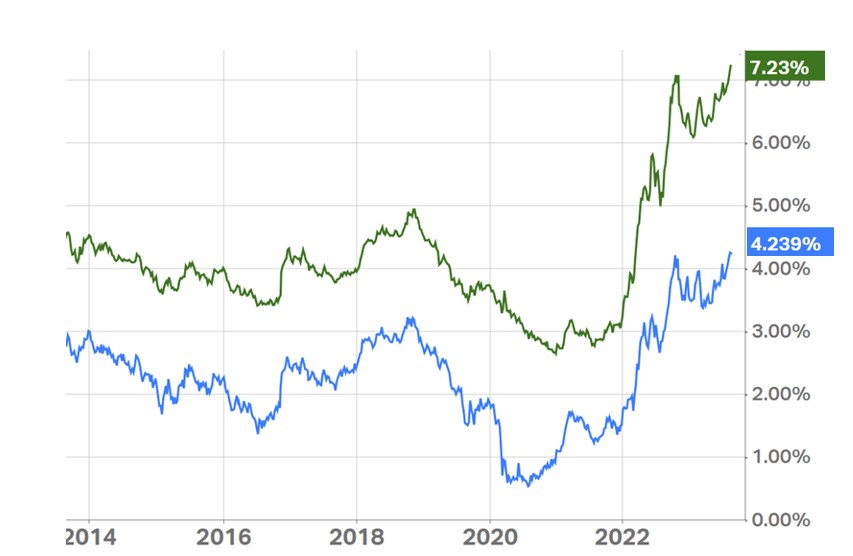 Source: Koyfin, Wall Street Journal
So far, the biggest impact on residential real estate has been a freefall in the number of homes for sale. (Why sell when you've had the good fortune of locking in a 3% mortgage, right?)
Historically, mortgages have cost around 1.75% more than the benchmark 10-year Treasury note. Today, that spread is around 3.00%. That's huge and likely not going to last. Something's going to give—or break.
Will it be home prices, interest rates, the economy—all the above? Maybe it will be the Fed's ability to deliver low and steady inflation going forward (along with its credibility).
Either way, this seems unsustainable. Otherwise, we should jump in and collect those juicy mortgage yields.
The content provided in this document is for informational purposes and does not constitute a solicitation, recommendation, endorsement, or offer to purchase or sell securities. Nothing should be considered personal financial, investment, legal, tax, or any other advice. Content is information general in nature and is not an attempt to address particular financial circumstance of any client or prospect. Clients receive advice directly and are encouraged to contact their Adviser for counsel and to answer any questions. Any information or commentary represents the views of the Adviser at the time of each report and is subject to change without notice. There is no assurance that any securities discussed herein will remain in an account at the time you receive this report or that securities sold have not been repurchased. Any securities discussed may or may not be included in all client accounts due to individual needs or circumstances, account size, or other factors. It should not be assumed that any of the securities transactions or holdings discussed was or will prove to be profitable, or that the investment recommendations or decisions we make in the future will be profitable or will equal the investment performance of the securities discussed herein.